Neutral Bedroom Reveal – Lowe's Fall Makeover
---
Lowe's Home Improvement sponsored this makeover series. All opinions and photography are our own. Thank you for supporting the brands that support this blog.
Well, the day is FINALLY here! It's time to showcase the big reveal of our Fall Makeover with Lowe's Home Improvement. We have so much to chat about with you guys. We want to dive into the busy day, all of the DIY projects, our favorite parts of the space, etc. But that's A LOT of info, and we know you guys just want to see the space already.
So today we're going to show you a ton of pictures of this gorgeous new space (there are A LOT!), as well as a source list for all of the main products we used. Then we'll break down all of the details into more posts over the course of October. Sound like a plan?
Before we get started, let's bring you up to speed on the Lowe's Fall Makeover series.
Let's Review
Back in August, we took submissions from homeowners all over the Chicagoland area to receive a room makeover from Lowe's Home Improvement. We read through dozens of submissions and decided to go with a newlywed couple who live in Homer Glen, IL. 
Over the past few years, Mike & April have each endured lots of loss in their family and these newlyweds were in need of some joy and happiness. As new homeowners, they were overwhelmed by the task of creating a home that reflects their style, so their master bedroom space was neglected.
After meeting with this adorable couple, we came up with a gameplan to transform their dark bedroom into a calming & bright oasis.
If you want to dive even deeper, be sure to give these posts a read.
Now let's get to the good stuff…
Before & After – Master Bedroom 

Pretty darn dramatic, right?! It's so much brighter and feels so much bigger.
I think it's safe to say we have some very happy homeowners on our hands!
We revealed the new room to April & Mike last Sunday morning. They both helped out on the big makeover day, but we didn't let them in the room as we started bringing all of the final pieces into the space. They slept in their spare bedroom Saturday night, so Sunday morning was officially a surprise reveal of their new master bedroom.
When we opened the door to their new space, they were OVERWHELMED! For 2 who are normally very chatty, they were both pretty speechless. Ha! We took that as a good sign.
The Bedroom Details
To make the room feel brighter, we removed all of their old window treatments and replaced them with filtered bamboo shades. We also added blackout curtains and a simple black rod to one of the windows (following the steps from this post). Since April often works night shifts, she wanted to be able to sleep during the day in this bright room. So those blackout curtains will definitely come in handy!
And doesn't the window seem huge now? We brought the rod about 8 inches outside of the window frame, and 2 inches down from the ceiling. That makes the window appear way bigger than it is!
One of our favorite items in the room is the new sleek ceiling fan from Lowes.com. 
We were shocked at how much we loved this contemporary piece! It emits light, keeps the bedroom cool, and adds some major style to this space. Mike & April were happy to see their outdated fan gone forever. 
Okay, let's chat about this bed. It's a stunner. Their bed used to just sit on the floor on top of the box spring, and these newlyweds were excited for a "grown-up" bed. This tufted bed from ATGStores.com fit the bill perfectly. We love the gray color and are obsessed with the footboard and the duvet tucked in all neatly. 
Fluffy pillows help bring the bed together and added some pattern to the all white duvet.
Onto our fauxdenza…
Didn't it turn out dreamy?! We used kitchen cabinets from Lowe's and we stained plywood for the tops and sides to give it a finished look. Using the same steps from this post, it turned out beautifully. This piece provides plenty of storage for the homeowners, without taking up a ton of real estate in this space. 
Plus, the brass hardware really elevates this piece and makes it even more high-end. 
And the top of the fauxdenza provides room for meaningful accessories, like this framed photo of April & Mike on their beloved scooters. 
Plus a plant (in a cool planter) to add some life to the room. 
The small blank wall between the closet & fauxdenza was just begging for something extra. We added a bench, sheepskin (which Mike referred to as a "pelt." hahaha!), and brass mirror to this little area.
And we absolutely love how the round mirror reflects the gorgeous gallery wall above the bed.
Which brings us to that…
Honestly, we were a little hesitant to add the gallery wall over the bed. We just didn't know if it would feel too crammed over the high headboard.
But after putting it up there with craft paper, we decided to go for it and hang the art. We are so happy that we did!
More about the art coming to a blog post soon, but we're obsessed with the variety of art and frames above the gorgeous bed. 
As you guys know we love adding personalized items to every home, so a room can really tell the story of the homeowners. Mike's sister provided us with these hardcover books that used to belong to Mike's dad. We put them on his nightstand so he'll have a little piece of his dad close by. 
We also added Mike's Dad's watch to the nightstand tray. It was so wonderful to see Mike's reaction as he noticed all of these small touches in the space. He truly was blown away, and we tear up just thinking about it.
Since the couple already had new carpet in the room, we just added some pattern with a large rug. 
Closet Door DIY Tutorial
And last but not least, we need to discuss one of the biggest DIY projects of the day. The new closet doors!
We used their existing bifold doors (which were incredibly dark & outdated), and gave them a fresh look with lattice, white paint, and sleek black handles. 
If you're looking to do this in your own home, you can check out our step-by-step tutorial HERE! Spoiler alert: It's not super difficult or expensive yet it makes such a big difference!
Master Bedroom – Shop the Look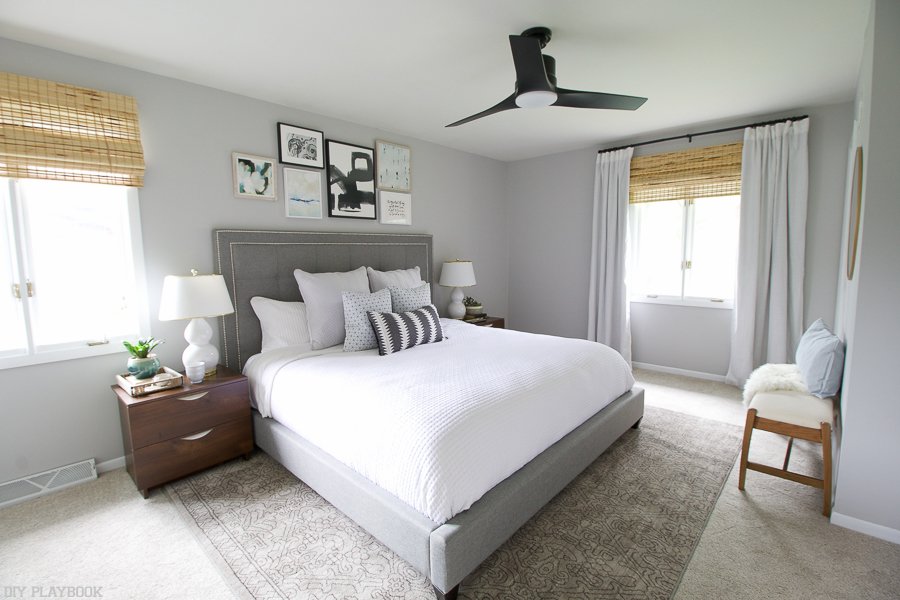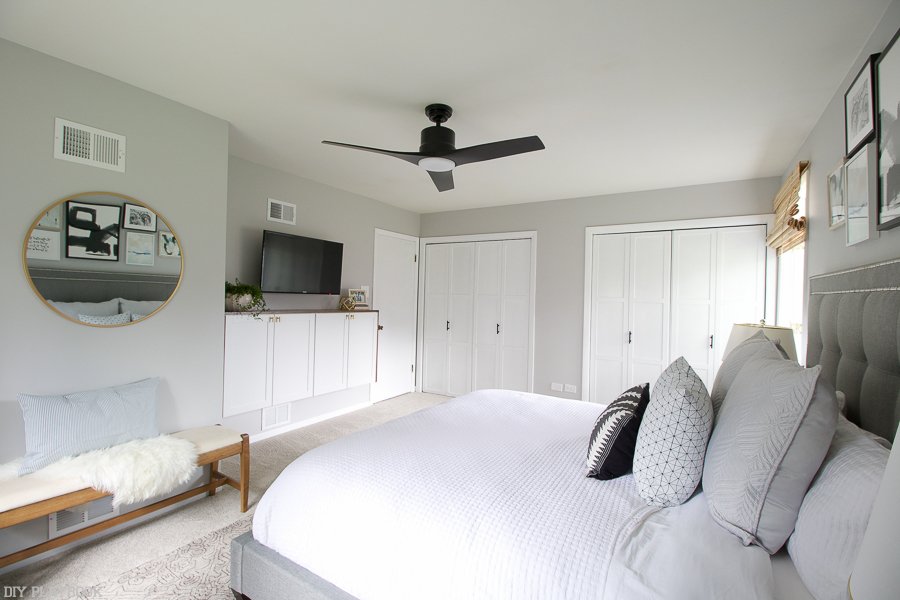 THANK YOU!
There's no way this room would have come together without the help of our family & friends, and our hard working group of volunteers from Lowe's Home Improvement. They were all rock stars and dedicated their Saturday to help us get the job done. We'll go into more details about the crazy day of DIY tomorrow on the blog.
But until then, consider us very happy girls with 2 very happy homeowners!
Still to Come…
Wait there's more!! If you love this post, you make also love:
---
Hey there!
I'm Casey Finn, the voice behind The DIY Playbook. I'm married to Finn & mom to Rory and Ellis. Together we're creating our dream home in Chicago, one DIY project at a time.