Choosing Bathroom Colors + Product for Our Remodel
---
Disclaimer: This post is sponsored by Lowe's Home Improvement. All opinions and photography are our own and are not influenced by Lowe's Home Improvement. Thanks for supporting the brands that support this blog.
Last week, I kicked off the first post in the series as I remodel our small guest bathroom.  Finn and I are ripping e-v-e-r-y-t-h-i-n-g out of this room and we're starting from scratch! Today, I'm eager to dive into our bathroom colors, mood board, and product picks for this small (but oh so mighty!) space.
Choosing Bathroom Colors 
The first order of business was to figure out our color palette for the new bathroom. Because this room is small and windowless (ugh…I want some natural light!), the beige in here wasn't doing the room any favors. No matter how clean, the room always looked dingy and dirty to us. 
So I knew I wanted to choose products, tile, and a paint color that would make the room look much cleaner and brighter.
I also think it's important to think about how you want the room to feel. I'd say above all I want it to feel fresh and classic. We will most likely be selling in the next few years, so going too bold with color (for the main items like tile & vanity) isn't really the best option for resale. Instead, classic is always a safe bet! With those things in mind, I started looking for rooms that gave me that fresh and classic feel.
Feeling Inspired
Whenever I'm working on a new space, I collect as many images as possible. I either make a board on Pinterest or I save them to Instagram folders when something makes me stop in my tracks. Here are some favorites…
Photo via Studio McGee
Photo via Studio McGee
Photo via Sunny Circle Studio
Photo via Amy Bartlam Photography & Design by JDP Interiors
All of these bathrooms gave me that fresh and classic feel, so I dissected what I liked about each and every one of them and I came up with my bathroom colors gameplan.
Black + white + wood + marble + greenery = my dream guest bathroom!
With my bathroom colors decided,  I got to work creating a mood board for the room.
Bathroom Remodel – Mood Board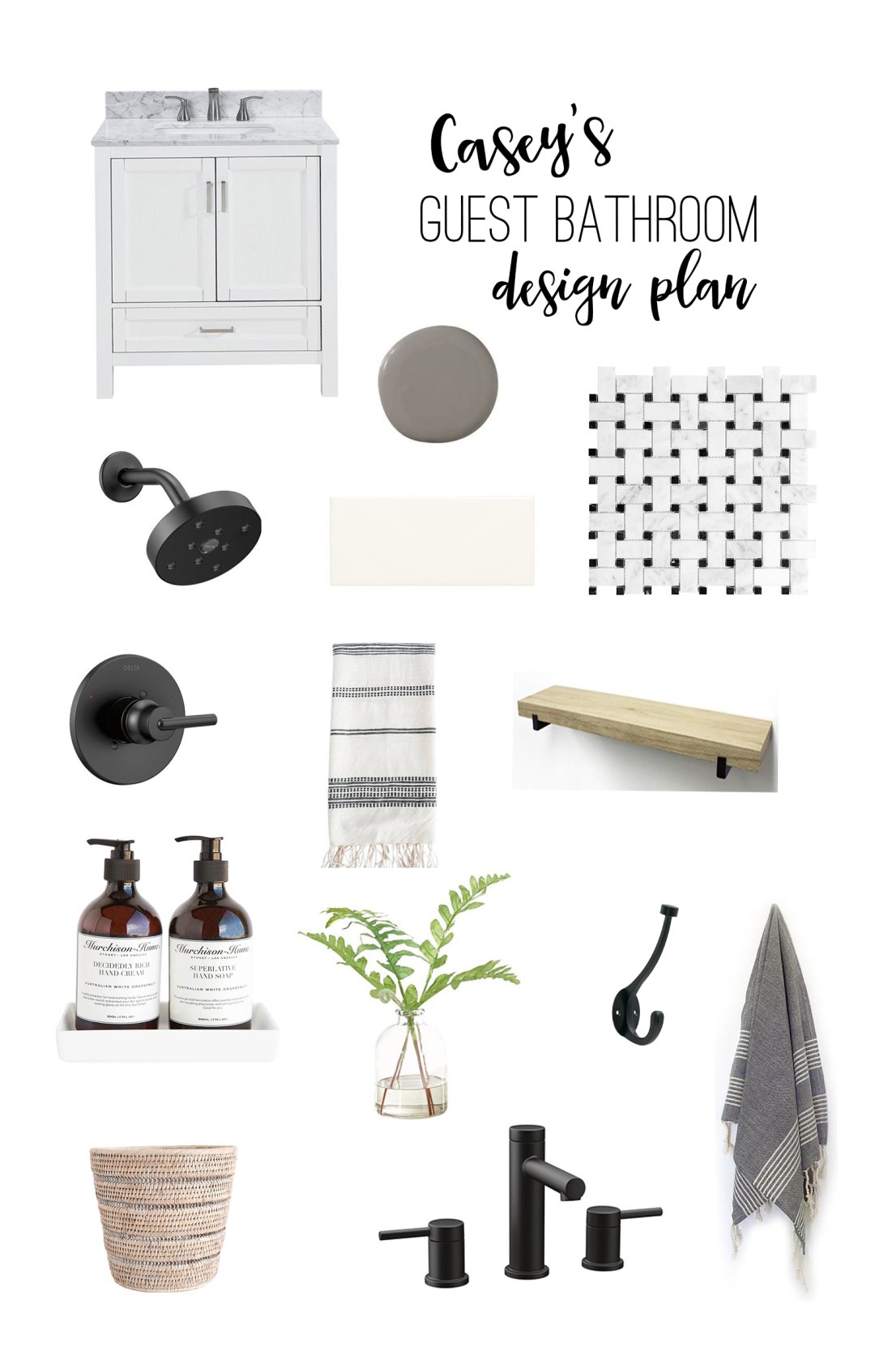 Floor Tile: I've always loved the look of this basketweave marble tile from Lowe's and I'm so excited we are using it as the floor tile in our space. Marble, white, and black screams timeless to me.
Wall Tile: I'm planning to tile all the way up to the ceiling in the shower and then halfway up the walls in the main portion of the bathroom. Because it's soooo much tile, I decided to go with this classic white subway tile in 3×6.
Paint Color: I haven't decided on my exact paint color yet, because I want to wait until some of our main components are installed before choosing. But there really isn't a ton of wall space in this room, so I'm thinking I can go bold with a color. Maybe a deep gray? Navy? I'm not totally sure yet, but I do want to do something a bit bold to contrast with the bright white subway tile!
Vanity: Finn wanted a vanity with plenty of storage and he is excited about this one because it has cabinets and a drawer…score! I'm going with the marble top and white base, but will then trade out the hardware and faucet to really customize it.
Shower Door: Hooray for no more shower curtain! The room is going to feel so much bigger when we ditch the tub and convert it into a standing shower. This shower door will show off the new white subway tile and I love that it's frameless.
Faucet: I love this matte black faucet that I'm putting in the vanity. It will contrast nicely with the white vanity base and marble top.
Shower Hardware: This matte black shower hardware will definitely pop again the white subway tile. Again, such a classic look for this room.
The Gameplan
Here are the renderings from the designer with the products we chose all in place.

Like I said in last week's post, it was nice to have a second set of eyes checking that I was choosing the right products for the room that would actually fit! It can be overwhelming when you're ordering everything for an entire space all at once (and easy to overlook things), so having a pro was helpful.
Next Week…
Enough chatting, it's time to start doing! Next week, I'll share how our demo days went down. I know some of you followed along on Insta Stories when we demoed things a few weeks ago, but I'll break down how we got absolutely everything out of the space. Plus, some tips on how to demo for your own bathroom project.
Casey
Catch Up on the Bathroom Renovation
---
Hey there!
I'm Casey Finn, the voice behind The DIY Playbook. I'm married to Finn & mom to Rory and Ellis. Together we're creating our dream home in Chicago, one DIY project at a time.